Songwriter's Workshop
SWWS is a Central Massachusetts based all-digital recording studio.
Thanks for stopping by!
Here's a few .mp3 files from the archives:

Trouble
Live Fast, Love Hard, Die Young
Like A Rolling Stone
Just Got Back From Baby's
Her Candles Burning Low
It's your Last Ride (On the Gravy Train)
Nobody's Better (Than You)
Anger Management
Faith In You

To download to your hard drive, right click on the links above and select "Save Target As..." from the contextual menu.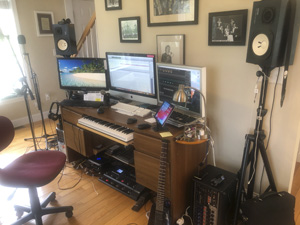 Solo blues stuff:
Evil Howlin' Wolf classic.
Honky Tonkin' Lifestyle BR549 song!
Tobacco Road Mostly like Rodney Crowell
Love In Vain Robert Johnson via the Stones
Honky Tonkin' Hank Senior.
Can't Judge A Book Willie Dixon via Cactus
Move It On Over More Hank Senior filtered through George Thorogood
Scott Marshall skmarshalldesign@aol.com