Schwarze Schafe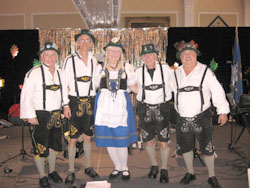 Black Sheep German Band, "Schwarze Schafe", is a family friendly German Band, perfect for an Oktoberfest Celebration or other German Party. This is a five piece group which plays German music, sings in German and in English and does the "Ein Prosit". We will teach the audience some German words and some German Dances. This band is very entertaining and fun. We can play for a small party in your back yard or a larger celebration at a country club or park. Most of our musical arrangements have been played at the Oktoberfest in Germany.
For smaller venues, a smaller band may be substituted to suit your needs.
Most of the arrangements that "Schwarze Schafe" plays have been played in Germany by another German Band which gave us their music. Our repertoire includes such favorites as "Munchner Oktoberfest", "Du, Du, Liegst Mir in Herzen", "Schutzenliesel", "In Munchen Steht Ein Hoffbrahaus", etc. with vocals in German as well as English. We do the "Ein Prosit" and teach the audience some German words and some German Dances.
This band is very entertaining and fun. We can play for a small party in your back yard or a larger celebration at a country club, park or church. We encourage the audience to participate in the fun, doing "The Sixteen Days of Oktoberfest", "Schitzelbank", "Hand On My Head", "Vogeltanz", etc. We do some children's songs in German and in English. The instrumentation is accordion, tuba, drums, trombone and trumpet.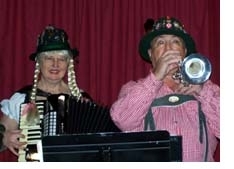 For smaller parties and budgets, a trio or duo may be substituted. In fact, the duo "Lou and Jan" has become the most popular German package and we call ourselves "Ludwig and Hilda". Jan also does a solo accordion Oktoberfest Show for small parties which only require an hour of German music.
We have a lot of wonderful testimonials from our patrons:

The experience was exceptional, I plan on using them again in the future. -- Brian A, Tewksbury, MA, 11/21/2009
The Schwarze Schafe German Band was outstanding. They were accomodating and fun. They incorporated the guests and honored all requests. I will call them again! -- John A, Harwinton, CT, 9/25/2010
very interactive band. Variety of entertaining dances (chicken dance) and activities (chocolate cake eating contest). Kept the audience involved...much fun. -- Hedy W, Southbury, CT, 4/3/2010
The band was great and really got the crowd involved with fun contests. -- Fred K, Fairfield, CT, 10/6/2011
Warm, entertaining, friendly and fun band. Perfect for our Oktoberfest event! -- Dj S, East Orleans, MA, 10/22/2011
They were great! Just what we wanted for a fun party. The best part was that they didn't push their games and activites. People just joined in and it was a lot of fun for everyone from 1 - 101! -- Michele D, Kinderhook, NY, 8/18/2012
First, I would like to point out I am a professional musician and many of my guests are also pro musicians in the Boston area. We all agreed Schwarze Schafe German Band is comprised of musicians of the highest caliber! But this group does far more than play music. They engaged our guests in all the activities mentioned in their profile, plus many more! As our Oktoberfest is a family-friendly event, they were simply fantastic with the kids! In years past, we usually get compliments on the German food we serve, but this year Schwarze Schafe German Band stole the show! They were simply incredible! Do not hesitate to book them for your event. You'll be very glad you did. -- Greg S, Framingham, MA, 9/22/2012
They were prompt, courteous and above all else they provided the perfect entertainment for our event. They are funny and play a wide range of music . They are perfect for an Oktoberfest event. -- Chris C, Cambridge, MA, 10/7/2012
Schwarze Schafe was an excellent choice for our Fall Family Festival event. They were extremely flexible, and willing to work around some hiccups in the schedule. The provided a fantastic Oktoberfest feel for the event and we will definitely use them again for future Oktoberfest themed events. -- Chris L, North Dartmouth, MA, 10/13/2012
What an impressive band! They played my big Oktoberfest party...having been to the real Oktoberfest in Germany, my expectations were certainly high! Auntie Hilda and Ludwig met those expectations and then some! They were great at getting the kids and adults involved, everyone was so impressed with all their activities they came prepared with. We had an absolute blast singing the "16 Days of Oktoberfest"!!! I so loved this band and would definitely hire them again for my event! What a difference live music can make to an event...once the band was set up- it truly felt like a party! Thanks again!!!! -- Mary-Beth S, Marshfield, MA, 10/20/2012
It was very positive and the residents had a very enjoyable evening. -- Jody B, Newton, MA, 10/22/2012
---
New Pictures!

First one: from left to right: Joe Burke, Bob Maloney, Joyce Maloney (our very own St Pauli Girl), Dick Auger, Lou Borelli
Second one: from left to right: Joe Burke, Bob Maloney, Janet Borelli, Dick Auger, Lou Borelli
These were taken at an Oktoberfest at Odione State Park, Rye, NH on September 14, 2016
---
The Alpine Horn!
These photos are of Dick Auger's Alpine Horn, which he recently made. The pictures were taken at the Currier Museum of Art in Manchester, NH on Oct. 6, 2016, where we played an Oktoberfest.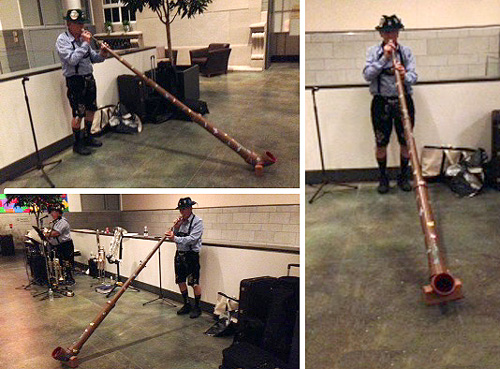 ---
Schwarze Schafe Oktoberfest!
Here's a snippet of the "Sixteen Days of Oktoberfest" from a 2014 Oktoberfest in Bristol, CT.
---
Best of 2014!
Schwarze Schafe is...

Thank you, Gigmasters!
Lou and Jan Borelli
---
Best of 2013!
Look what we found in our mailbox...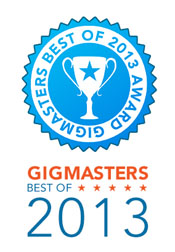 Congratulations!
Your Schwarze Schafe German Band membership has won GigMasters' Best of 2013! You earned it by receiving 5 reviews (or more) with 4 stars or higher last year. Nice work! Your award image is now live on your profile, be sure to check it out. Let the world know by sharing your profile on Facebook and Twitter.
We are honored to have you as a GigMasters member. Cheers and here's to more bookings and reviews in 2014!
GigMasters.com
Thank you, Gigmasters!
Lou and Jan Borelli
---
---
Mount Wachusett Applefest!
This is a photo of the Chocolate Cake Eating Contest at Mount Wachusett Applefest, 2014.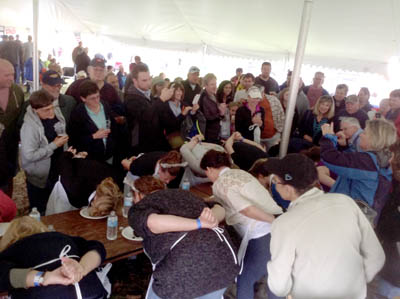 I have no explanation for why there were no guys in the contest. Annette won the contest. Congratulations, Annette!
---
What People Are Saying...!
They really had the guests participating in the entire evening. We all had a great time!!!
- Bruce Y, Bristol, CT
Our audience was thrilled with the authenticity of the band and really had a great interactive evening. They made the party!
- George D, Simsbury, CT
Party wouldn't have been the same without these guys!
- Colin M, Lenox, MA
Excellent group, very professional and very congenial to work with.
- Salil S, Bridgewater, MA
It was all a 5 Star afternoon for our residents! Both performers were very talented, the outfits fit into our Oktoberfest party perfectly. Not only were the songs perfect for our theme, but both performers played instruments...accordian and trumpet!! This gave a more profession feel to the whole afternoon! And into the audience they went to involve us in their program. Being the Activity Director, it was so rewarding to see several of our residents sing along and truly enjoy themselves! One resident even was heard saying that was the best entertainment this year. Thank Auntie Hilda..hope to see you again!
- Joan Roth M, Attleboro, MA
We were looking for a really great band to excite our crowd and build on the Oktoberfest atmosphere. Schwarze Schafe was exactly what I was looking for - the horns and oompah and crowd interaction was great! Thanks much for making our 4th Annual Glenville Oktoberfest a big success!!!
- David H, Glenville, NY
Auntie Hilda was wonderful and very flexible with our timing...which kept changing. She was the hit of the wedding!
- Jennifer B, New Marlborough, MA
Schwarze Schafe was great! They were very flexible and able to accommodate all of our needs! Great for any German themed party! I would definitely recommend using them!
- Jaclyn E, West Springfield, MA
---
| | |
| --- | --- |
| | Schwarze Schafe (Trio) playing on the Sam Adams Oktoberfest Trolley in Boston, MA, September, 2013 |
| | |
| --- | --- |
| | Schwarze Schafe (Trio) playing on the Sam Adams Oktoberfest Trolley in Boston, MA, September, 2013 |
---
Schwarze Schafe has finished their Oktoberfest CD and it is available at www.CDBaby.com as well as at performances of Schwarze Schafe.
Here is a trio of mp3 clips:
Ein Prosit
Munchner Oktoberfest
Toast!
---
Schwarze Schafe on YouTube!




---