Package Listing
This is a listing of many of the different musical projects that we lead or participate in here in the Central Massachusetts area. Please scroll down, because the list is VERY LONG!
---
A New Package: Cinco!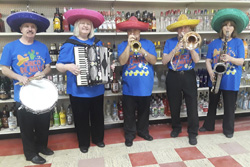 "Cinco" is the perfect band for a Cinco de Mayo party. A lot of our repertoire is from Herb Alpert and the Tijuana Brass and we have also included some of the old favorites like "South of the Border", "Tequila", "Mexicali Rose", "Vaya con Dios", etc. The instrumentation of the band is drums, accordion, trumpet, trombone and saxophone. We include vocals too.
---
Louie Lewis and the Klezmerbops: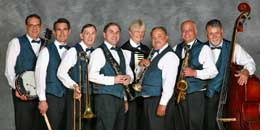 Louie Lewis and the Klezmerbops is a Klezmer Band from Borelli Music. Jazz and Klezmer are incorporated in this soulful music. Klezmer music originated in the shtetl (villages). The Jewish musicians were called Klezmers, or gypsies, and they played at simkhes (celebrations) from the early middle ages until the Nazi prosecutions.
I love how the great clarinetist Giora Feidman states "Klezmer means the instruments are essentially the loudspeakers of the inner voice singing in everyone's soul. A Klezmer doesn't make music. He speaks, prays, consoles with his instrument." (Helmut Eisel)
For More about the LL and the Klezmerbops click here.
---
Lou Borelli Big Band: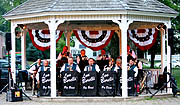 The Lou Borelli Big Band plays songs from the big band era, Sinatra favorites, swing tunes, etc.
For More about the Lou Borelli Big Band click here.
---
Lou Borelli Octet: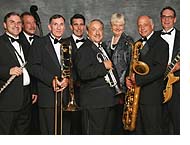 Our selections are original arrangements from the Dave Pell Octet, one of the bands credited with the creation of the West Coast Jazz scene in the 1950's. Shorty Rogers and Marty Paich were the first arrangers to showcase the unique sound of this group. We are honored to play these arrangements as a tribute to Don Fagerquist, a Worcester born trumpet player, who went out to the West Coast to play with the great bands of his time.
For More about the Lou Borelli Octet click here.
---
Mixed Grille: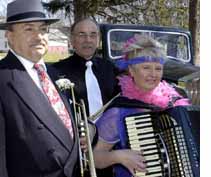 Mixed Grille - trio for dinner and dancing music, jazz, background, easy listening, for all occasions. Additional players can be added if desired. Italian Festival Package and Scandinavian Dance Package available. The band has just released their CD entitled "Mixed Grille Plays Italian Music".
For More about Mixed Grille click here.
Members of the Band (Pictured here in the studio):

Marshall Mason from Holden on drums
Janet Borelli from Paxton on keyboards
Lou Borelli Jr. from Paxton on trumpet, flugel horn, flute and vocals


---
Mixed Grille Finnish Package (Tervetuloa Vati):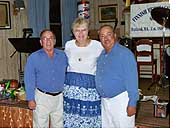 Jan has an extensive Finnish library of music which she inherited from her father, George Lilyestrom, who used to play for Finnish dances with his trio. Jan started in the music business by going out to gigs with her Dad and sitting in.
One time, Jan accompanied her father and his trio at a twenty fifth wedding anniversary and it was for a Finnish couple who had hired George Lilyestrom to play for their wedding. Twenty five years later, Lou and Jan played for the couple's fiftieth wedding anniversary - "a very humbling experience for me", reports Jan. "I'm glad we can keep the tradition going. The Finnish music is unlike any other I have played. The Finns are a proud people, very quiet and private, and these feelings come through in the music, often in a minor key. Hearing or playing "Finlandia" or "Valse Triste" by Sibelius always makes me cry.
---
Lou and Jan: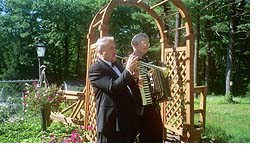 "Lou and Jan" is a jazz duo, a strolling duo, a flexible duo that can fit in your kitchen, in your back yard, under a tent or on the stage. We have lots of ethnic music for most occasions, children's music, sing-a-longs, background music, jazz. Lou plays trumpet, flugel horn, trombone, sax, clarinet and flute on a duo gig and he also sings. Jan is on accordion, acoustic or electric, depending on the gig.
For more about Lou and Jan click here.
---
Ludwig & Auntie Hilda: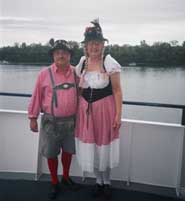 How do you say "HAVE FUN!" in German? "Ludwig & Auntie Hilda!"
Well, actually it's "Viel Vergnügen!" but you'd never need to know that after seeing Ludwig & Auntie Hilda get a whole crowd hoisting their steins and doing the traditional Oktoberfest party stuff!
For more about Ludwig & Auntie Hilda click here.
---
Musical Telegrams:
A musical telegram is a thoughtful and fun way to celebrate a special event, such as a birthday, Valentine's Day, anniversary, end of the season party, etc. In most cases, it's Jan on accordion and Lou on trumpet. The picture is a Santa-gram but the are many different themes.
Some of the musical telegrams we do are here.
---
Black Sheep Dixieland Band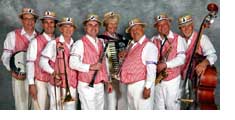 Dixieland and more!
Black Sheep Dixieland Band is a family oriented Dixieland Band, perfect for a party at your house, a Mardi Gras, jazz concert or parade. We play music reminiscent of New Orleans and songs for children. We can include face painting and balloon animals if you want, also a parade for the kids with rhythm instruments, leis, grass skirts.
Our music is lively and fun and appeals to all ages. We can play just about anywhere as we have a generator for our electricity if needed. We could play at places which had no electricity after the infamous ice storm of 2008. We can play at the beach if you like. Perfect for a clambake. The band includes eight musicians, but a smaller band may be substituted to suit your needs.
For more about Black Sheep click here.
---
Schwarze Schafe (Black Sheep) German Band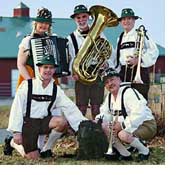 is available for Oktoberfest Celebrations and concerts!
Book us directly, or through GigMasters!
"Schwarze Schafe" (Black Sheep) German Band is a variation of the "Black Sheep Jazz Band", a Dixieland Band. We recently acquired a good sized library of German arrangements and realized that if we substituted a drummer for the banjo player, we could still use the same tuba player and trombone player from Black Sheep Jazz Band and voila - a German Band. We are best suited for family Oktoberfests, concerts and parties. We do the "Ein Prosit" German toast, as well as a lot of German polkas, "Chicken Dance", marches and waltzes.
For more about Schwarze Shafe click here
---
A Touch of Brass: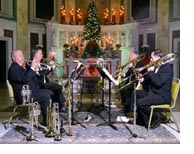 "A Touch of Brass" a group for ceremonial occasions: church services, weddings, funerals, etc. and also for concerts and parties.
For More about A Touch of Brass click here.
---
Children's Entertainment Package from Jan: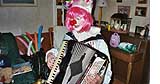 Jan plays her accordion for day care providers and pre-schools in the Worcester area. The children are encouraged to sing and dance along with the music and participate with toy instruments when applicable. Face painting and balloon animals are provided if desired.
For More about Jan-Accordion click here.
---
Senior Citizen Entertainment Package from Jan: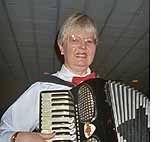 Jan goes out during the day to a variety of nursing homes, retirement communities, rehab facilities, etc. to provide entertainment for the residents as a solo accordionist. Sometimes music helps to bring someone out of their private despair and brings a smile to someone's face. It is sheer joy when one of the staffers tells Jan that one of the residents was singing along with her music and hadn't been communicative in a long time.
Music as just as therapeutic for the clients as is their speech therapy and physical therapy.
Jan writes:
I played at Beaumont, Westboro this afternoon and I so enjoy talking to the old folks. They share stories about musicians and the big bands that are so precious because they lived and danced in the big band era. We missed that era, but the music of those great musicians lives on in the hearts of those people who lived at that time. We preserve it too by playing it, but we can get a lot of insight from these elderly people. Music was such a big part of their lives. A lot of them tell me that every night they would get together at someone's house in the neighborhood for singing and playing music. A lot of people played accordion then and the closeness of family and friends was enhanced by this ritual of playing music and singing. They have such fond memories of these occasions and they enjoy sharing them with me. It's a very humbling experience. I'm so grateful I can bring some live music to them once in a while. They really like it.
---
Jan-Accordion: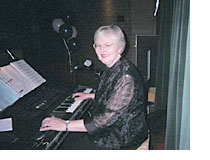 Jan has been playing at church services, Masses, weddings, and funerals. This keyboard accordion is very versatile because she can bring it outside or where ever the bride and groom want to get married. "Once I played my acoustic accordion on a double decker bus for the wedding party on their way to the rehearsal and then back to the country club for their rehearsal dinner. They kept asking me to repeat "Get Me To The Church On Time". What a fun gig!
More about Jan-Accordion here.
---
Jan's Marching Band: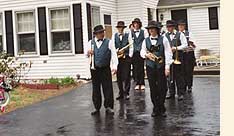 Jan's Marching Band is a new offering from Borelli Music and it started as a favor for a friend who was desperate for a marching band for a parade. I said "Sure, we'll help you out". So we got music for a marching band, borrowed a set of cymbals, refurbished an old snare drum from the fifties, our drummer bought a bass drum on ebay and we rehearsed in our driveway. We already had vests, bow ties and hats from Lou Borelli Big Band, so it was just a case of training the recruits how to play, march, look where you are going, try to keep in line with the musicians in front of you as well as on the side of you and make sure you don't step in horse droppings if there are horses in front of you in the parade. It's not as easy as it looks, especially turning!
For More about Jan's Marching Band click here.
---
Hi-Lites School of Music: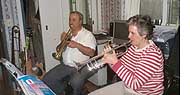 At our studio in Paxton - instrumental, music theory, jazz and voice lessons.
Private instruction on most instruments, voice and jazz improvisation are available from Lou and Jan Borelli.
There is also an opportunity for students to rehearse and play in bands as they develop their skills.

For More about the Hi-Lites School click here.
---